Hello Ram families, this is Superintendent Greg Walker with a Covid-19 and school update. It was great to welcome our students back this week and I think it is good for them to get back into a routine. I saw a lot of smiling faces and positive things going on this week. We do have several students out due to quarantine from exposure to Covid-19 during the holiday break. Fortunately these numbers are not near what they were back in November when we had over 110 students out and needed to switch to virtual. We also have a handful of staff out that are positive from out of school exposure, but also fortunately not at the level we were in December when we had to switch to virtual due to staffing issues. We did send 12 students home on Wednesday due to contact tracing. While our county returned to the RED category, the recommendation from health officials is to continue in-person instruction, so we will continue on that path. Please continue to keep your child home if they are symptomatic and follow those safety precautions. God Bless and Go Rams.

Hello Ram Families! This is Superintendent Greg Walker with a return to school update. Following the recommendation of county health officials, Paoli Community Schools will return to in-person instruction tomorrow, Monday, January 4th. We are looking forward to seeing our students back in school as we begin the second semester. As our county continues to be in the RED category, we need everyone to continue to follow Covid-19 safety guidelines. Anyone displaying symptoms should stay home and consult with their family doctor and/or the school nurse. It is going to take all of us working together to ensure that our students can experience the in-person instruction that they need and participate in extracurricular activities. Please continue to wear masks when in public, practice social distancing, and wash your hands. Happy New Year, God Bless, and Go Rams!

This is a reminder for seniors and their parents to submit the FAFSA as soon as you can to be eligible for financial aid for post-secondary education. For assistance, please contact college advisor Mary Lechner to set up an appointment at
lechnerm@paoli.k12.in.us
or 502-509-7425

Tonight's varsity boys basketball game against the Henryville Hornets will be live streamed beginning around 7:30 p.m. on the PHS Facebook page. Good luck Rams!

Hello Ram families, this is Superintendent Greg Walker. COVID has not been good to us this week. By the end of the day we had over 100 students out due to contact tracing. After consulting with Dr. Lopez, I have made the decision to switch to Virtual E-Learning on Monday, November 16th. School will be in session tomorrow (Friday, November 13th) to allow students and staff a day to prepare. We plan to return to in-person instruction on Monday, November 30th. All athletic practices and contests will continue as scheduled at this time. Mr. Newkirk will provide updates on Rocky Ram, the school website, and on our Facebook page. I will announce our food service plan tomorrow. As positive cases spike and we continue to set daily records of new positives in the state, I urge everyone to follow safety protocols so we can slow down this virus and our kids can return to school. Wear face masks when in public and when you can't social distance. It will take everyone working together to slow down the spread of this virus. I would like to wish everyone an early Happy Thanksgiving. Stay safe and God Bless!

Our students will be honoring veterans today on our first Virtual Veterans Day event. Click on the PHS News Today YouTube channel linked below, and under the "uploads" drop down, select "Live Now" beginning around 10:45 a.m. The event should begin at 10:50 a.m. and a recording of the program will be available on our channel.
https://www.youtube.com/user/PHSNewsToday/videos

Need a Christmas Gift Idea? Need a shirt to wear to our Paoli events? Need a toboggan to wear this winter? Look no further... the online store closes this Sunday 11/8/20, so order NOW. Thank you for supporting your Rams Athletic Department! Please continue to share this link! Here is the link for the fan gear sale:
https://phsfangear2020.itemorder.com
THANKS and GO RAMS

The complete PSCS COVID-19 Guidelines for Basketball are now located on our website. Please visit
https://phs.paoli.k12.in.us/
and select "Menu". Guidelines are listed under "For Students." Thank you for your continued support as our school navigates these challenging times. #PaoliProud

This week's girls varsity/JV basketball games scheduled for Thursday (11/5/20) and Saturday (11/7/20) have been postponed. The games with Northeast Dubois (11/5/20) and Southridge (11/7/20) will be moved to a later date and will not be played this week. These postponements are due to the State Covid Guidelines.

Superintendent Greg Walker's Message from Friday, October 30: Good afternoon Ram families. This is superintendent Greg Walker with my Friday Covid-19 update. We did make it to another Friday and I am pleased to say that we have now completed 61 days of school. We had a good week with no positive students or staff reported. We do have 16 students at the high school and 19 students at the elementary school who are E-learning at home due to being a close contact with someone outside of school. Orange County as a whole has improved this week. Last Friday we had a 7-day positivity rate of 8.5 % and today that number is 4.4 %. On Wednesday, the state moved us from an "orange" county back down to a "yellow" county. I want to thank everyone for continuing to do their part in wearing masks, social distancing, and washing those hands. Your efforts are helping us to continue having safe in-person instruction and extra-curricular events for our students. Stay warm and have a fun, safe, and happy Halloween.

Message from Friday, October 23: Good evening Paoli School families. This is superintendent Greg Walker with my weekly Coronavirus update. This has been a challenging week as we had some support staff who either tested positive or were a close contact right before and during fall break. I am very appreciative of all the staff and substitutes that helped ensure that we could clean our buildings and run our bus routes this week. It has truly been "all hands on deck" and again I want to thank everyone who pitched in. I was informed yesterday that 3 students, all siblings, had tested positive. Fortunately they had not been in school since we went on fall break and we didn't have to quarantine any close contacts. We pray for the quick recovery of all those affected by the virus. As you know, the number of new coronavirus cases has increased in Orange County and Indiana as a whole. With these increases, it is more important than ever that you don't come to school or work if you have any of the Covid-19 symptoms, continue to wear your masks when in group settings, social distance, and wash our hands. It is going to take a concerted effort of our entire community to control the spread of this virus and ensure that our children can continue to receive safe in-person instruction. Have a great weekend, God Bless, and Go Rams!

Just a reminder that next Thursday, October 29, all sophomores will be taking the PSAT from 8:30 a.m. to noon. All students will report to their first period class for attendance and there will be an announcement from the office when to dismiss. GOOD LUCK to all sophomores!

Parents, the October/November Parent Newsletter is now available on our website. Please visit:
https://phs.paoli.k12.in.us/
Click "Menu" The link to the newsletter is located under "For Parents."

VOTE FOR THE RAMS! Please vote and help us spread the word! Our school's football matchup this week has made it to the 2nd round of the Colts' Friday Night Football Tour, which means our school is 1 of 5 matchups now competing to be named the game of the week. Both teams participating in the FNFT game of the week will receive a $1,000 donation to their school's athletic department. Round 2 voting will start today (10/7) at noon and run to 3 p.m. on Friday (10/9). The matchup receiving the most votes in round 2 will be named the Friday Night Football Tour game of the week. Vote at
www.colts.com/FNFT
! The winning FNFT matchup will be announced on the @ColtsYouthFB twitter handle at 6 p.m. on Friday (10/9).

Good evening Ram families. This is superintendent Greg Walker with my weekly update. We had another exceptional week in relation to COVID-19. We had zero students or staff members test positive this week. There were a few students self-quarantining due to close contact outside of school. Rick Emerick's daily brief shows a very good Orange County 7-day positivity rate of 0.5% and we are a blue county on the state county metrics map. Thanks to everyone for continuing to follow protocols, wear their masks, social distance, and wash their hands. Reminder that there is no varsity football game tonight, as the Rams take on Crawford County tomorrow night at 7:00 pm at Cook Field. My next update will be after we return from Fall Break. Have a great weekend and Go Rams!

Superintendent's Message from Friday, September 25, 2020 Hello, this is Superintendent Greg Walker with my weekly update. I have been out of the state most of the week for a family death and funeral. I want to thank my administrative team and central office staff holding the fort down and our amazing school nurse Emme Moore for preparing this week's statement for me. There have been no new COVID-19 cases among PCSC staff or students this week. All students who were quarantined from previous school associated close contact have returned. Both Throop and the Jr-Sr. High School are represented on the ISDH COVID-19 School Data Dashboard. This will be a public displaying interface with data on the number of COVID-19 cases in Indiana schools. The dashboard will be updated weekly by the ISDH. Dr. Lopez explained that while the state of Indiana has no current travel restrictions, other states may. If you are traveling over Fall Break, please be cognizant of any restrictions that may affect your travel or return home. Thank you, God Bless, and Go Rams

Good afternoon Ram families, this is Greg Walker, superintendent of Paoli Schools with my weekly update. . We were informed late last Friday of a positive student. Contact tracing identified several students and a staff member who are now self-quarantining. This week has been good, there have been no students or staff members who have tested positive. Our students and staff continue to do a great job of following our procedures. I wish to encourage each of you to continue to practice social distancing, wear your mask when that isn't possible, and wash those hands. Have a great weekend and Go Rams.

The ISDH has sent out another update to the school exclusion criteria for COVID-19. At this time, siblings and households members of individuals with COVID-19 symptoms do not automatically get excluded unless there is a significant concern for COVID-19. This is a nursing judgment call based on the reported and observed symptoms, responses to questions regarding contacts and travel, and other known information.

Weekly COVID-19 update for Friday, September 11, 2020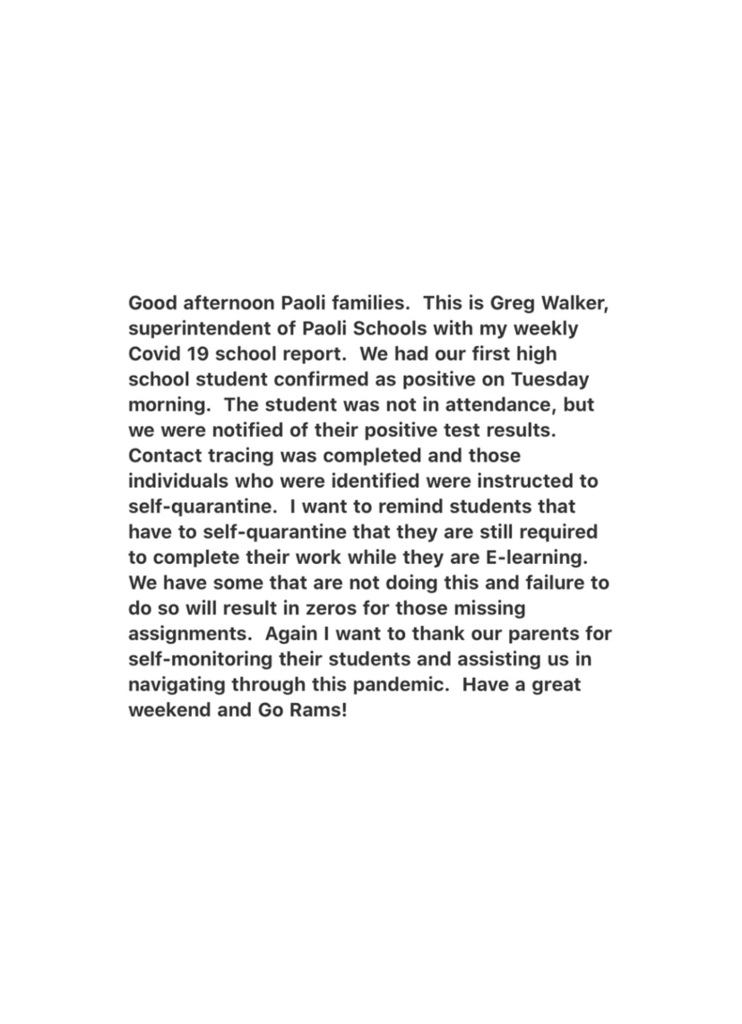 Weekly COVID-19 update from Superintendent Greg Walker.